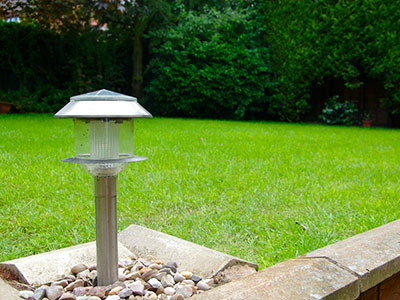 Professionally designed landscape lighting systems add character, elegance, and security to your home. You can enjoy the splendor of your yard spaces long after the sunset. Outdoor lights offer functionality, charm, and peace of mind for homeowners, accentuating the landscape's unique and decorative elements.
For high-grade exterior lighting, you need skilled and experienced landscapers that will cater to your specific needs. At Michael & Sons, we offer comprehensive landscaping solutions, including maintenance plans that help improve the beauty and sustainability of your outdoor spaces. We are committed to ensuring that our customers get the kind of landscapes they will love to use.
Customized Yard Lighting Plans
It means we take the time to design and plan every aspect of your outdoor spaces including the lighting correctly. We handle residential outdoor lighting projects in Avon, OH, and offer customized services, so you get excellent value for money.
In addition to supplementing the safety aspect of frequently traversed areas like decks, patios, and courtyards, landscape path lighting can deter criminals from trespassing on your property. Furthermore, exterior lighting is considered an amenity that will significantly increase the curb appeal and resale value of your home.
Whether you want to install landscape lighting to make your deck/patio more accessible, illuminate underwater features, or simply highlight your impressive gardens and flower beds, we are the landscapers that can help. Outdoor lighting is one of the best investments you can make for your home.
Exterior Lighting Fixtures and Installations
When it comes to landscape lighting, selecting the right location and types of fixtures is crucial. If done correctly, landscape lighting can complement your home structure in a truly transformational way. If you want unique landscape lighting ideas, our professional and experienced landscape designers will explain which types of lights are available, and their pros and cons. This approach helps ensure you can make smarter choices for your landscape illumination.
We can plan the perfect outdoor lighting layouts and recommend fixtures that blend in perfectly with your landscape and highlight various decorative and functional elements. We use techniques such as downlighting, uplighting, recessed lighting, concealed lighting, and more to create the best impact in your outdoor spaces. Some of the fixtures you can choose from include:
Paver lights
Path lights
Column and wall lighting
Step lighting
Deck and patio lights
Underwater lights
Spotlights and floodlights
Other
LED Landscape Lighting
While we focus on aspects like safety, functionality, and durability, we also want to ensure that you have energy-efficient outdoor lights. It is why we recommend the use of exterior LED lights. These are 80% more energy-efficient than standard bulbs, which means you get the amount of illumination you want without having to fork out excessively high energy bills each month to keep your landscape well lit. When you want superbly designed, installed exterior lighting plans, we at Michael & Sons are the company to call. For any more information about our expert solutions, please contact us at this number- 440-779-7775 or fill in this Online Form with your project details, and we will call you as soon as possible.
We Provide Services to the Following Cities, Towns and Surrounding Regions of OH:
Avon Lake, OH
Rocky River, OH
Westlake, OH
Strongsville, OH
Lakewood, OH
North Ridgeville, OH
Vermillion, OH
Sheffield Lake, OH
Olmsted Falls, OH
Broadview Heights, OH
Brecksville, OH