Landscape Contractor in Bay Village, OH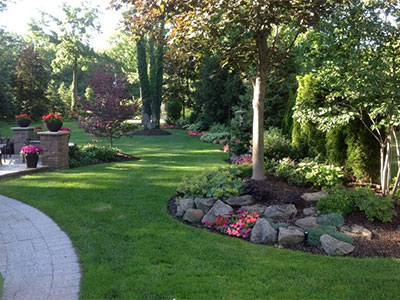 Since we started operations, we have become a leading landscape contractor serving the Bay Village, OH, and surrounding regions. Through the years, our company has provided world-class yet easy on the pocket services done professionally and with strong sense of urgency. Ultimately, we have made the name Michael & Sons Outdoor Solutions stand for excellent workmanship, competitive pricing, and commendable work ethic.
Connect with us today so we can better understand how best to address your residential and commercial landscaping concerns.
The Best Landscape Contractor You Can Hire
Michael & Sons Outdoor Solutions is simply the finest landscape contractor that you can possibly hire if you reside in Bay Village, OH, or in a nearby city that we serve. We have served numerous commercial and residential property owners across the State, being hugely instrumental in making their dream outdoors a reality.
We are staffed by courteous crews who are fully aware of their job to render commendable work quality. Our company will put your landscaping needs on top of our priorities, and we will never leave any part of the project unfinished or unsatisfactorily done. Only when you're fully satisfied with the work we have done will we declare the work done and move on to the next.
Comprehensive Landscaping Services
We have been offering comprehensive landscaping services for many years now. Slowly but surely, we have established our company as the one-stop place for all landscaping-related needs, such as paver restoration, landscape lighting, plant and property maintenance, retaining wall installation, fire and water features installation, and many others.
One of our strengths as a landscape contractor is our ability to handle all types of landscaping projects. We can handle projects for commercial establishments and take care of landscaping concerns of homeowners. From landscape design, maintenance and installation to repair and restoration, you can trust in our company to offer you the best value for your money.
Quality Work and Excellent Results
We always want to give our clients the best possible results no matter how simple or complex their landscaping needs may be. As a landscape contractor, we know that we're duty bound to ensure that clients can enjoy a well-appointed and properly maintained outdoors where they can relax after a tiring day at work.
Among others, we ensure quality work in all stages of the project by using premium landscaping materials and supplies. Whether we're talking of outdoor lighting fixtures or retaining wall blocks and pavers, clients that we serve are assured of only the finest quality materials. Likewise, we also consider our clients' expected results when handling their concerns, hence guaranteeing that we're on the same page with them.
Additionally, we follow a streamlined approach that allows us to focus our efforts on important aspects of the project. This method lets us complete projects in a timely manner and at a cost that is most advantageous to the client. With Michael & Sons Outdoor Solutions as your landscape contractor of choice, you can surely look forward to excellent results and a lifetime of benefits from your landscape. Please call 440-779-7775 today for more details of our offered services.
We Provide Services to the Following Cities, Towns and Surrounding Regions of OH:
Avon Lake, OH
Rocky River, OH
Westlake, OH
Strongsville, OH
Lakewood, OH
North Ridgeville, OH
Vermillion, OH
Sheffield Lake, OH
Olmsted Falls, OH
Broadview Heights, OH
Brecksville, OH