Residential Landscape Services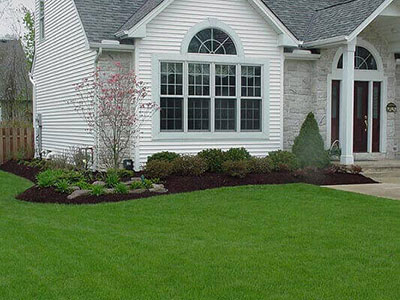 At Michael & Sons, we handle start-to-end residential landscaping projects such as landscape design and planning, maintenance, and more. Our solutions are designed to meet your needs, and you will get the best value for money when you hire us. We ensure that our customers get the superb landscapes that will add to the curb appeal and value of your residential property.
It means we design, plan, and maintain residential landscapes, so they are sustainable, look appealing, and remain in good condition for many years. We handle residential landscaping projects in Avon, OH, and have a substantial customer base in the region. No matter the scope or size of your residential landscaping job, we are the experts that can help. Our company handles new landscape and yard upgrade projects. The wide range of services we offer include:
Landscape Design
The functionality & beauty of your outdoor spaces depends primarily on how well they have been planned and designed. We handle complete landscaping jobs, focusing on creating superb, practical, and appealing landscapes. Our experts will have discussions with you and provide the best landscape plans and layouts. They will show you material samples and present their ideas and inputs. In addition to new landscape plans, we also handle the design and planning of smaller landscape upgrade projects. Whether you want outdoor features built or flower beds and planter spaces planned, we can help. We provide customized plans and layouts and make sure that the aesthetic and functionality of your landscape is in line with your needs.
Outdoor Living Space
The outdoor areas of your property add to its value. However, you need to have the appropriate, well-planned outdoor living features in your yard. These structures enable you to make optimal use of the available spaces and use them for relaxation and entertainment at different times of the year. We can design and build various customized outdoor living structures, including decks, patios, outdoor kitchens, pergolas, arbors, etc. Our skilled and experienced hardscape designers work closely with you to make sure that your outdoor living features are aligned with your needs and ideas. The use of advanced construction techniques and top-quality materials help to create durable structures in your backyard, giving you attractive and practical spaces to use.
Pavers and Retaining Walls
Many of our residential landscaping projects include paver installation and construction of retaining walls. We can install brick, natural stone concrete paving on patios, decks, walkways, driveways, and more. We build specially engineered block walls that add stability and resilience to the outdoor spaces. We offer custom retaining wall design and installation services using concrete masonry blocks, natural stone, or brick. We can also design dual function retaining walls with in-built seating or planter spaces in them. If you want retaining walls on your property, we are here to help with unique designs and resilient features. We use the best grade pavers and blocks so that these hardscapes will add to the aesthetics and value of your outdoor spaces.
Swimming Pools and Water Features
One of the best ways to create well-balanced outdoor spaces is to install water features in them. You can choose from fountains, waterfalls, and ponds, and our team is here to design the best features for your landscape. We also handle residential swimming pool design and build and can develop the perfect above-ground pool for your needs. Our experts can design the type of pool you want and include spa and kiddie pool features. Since we provide customized services, you can be sure that your new swimming pool or water feature will be a class apart. We use proven and time-tested materials and techniques in the construction of these features, so you have stunning outdoor spaces on your property.
Maintenance Programs
We handle many ongoing landscape care projects for residential clients. Our expert landscapers have created functional outdoor spaces on properties here. We work closely with clients to understand their specific ideas, needs, and budget. Our experts have in-depth knowledge of various aspects of maintaining landscapes. No matter how big or small your landscape, we can handle the job. Our landscape maintenance programs cover everything from mowing and de-weeding to fertilization and pest control. We also handle all hardscape cleaning jobs and tackle pressure-washing or paver driveways, concrete pathways, and more. Our company provides the perfect balance of quality, reliability, and cost-effectiveness so that you have well-maintained landscapes at an affordable cost.
Outdoor Lighting
Creating superb outdoor spaces is about making sure they look as stunning after sunset as they do during the day. We provide customized landscape lighting design and planning solutions. Our skilled and experienced designers are knowledgeable. They have the expertise and creativity to create ideal and attractive lighting effects in your landscape. We help plan various features, including path lighting step lighting, patio, and deck lighting, as well as water feature lighting and more. We use a variety of techniques, including uplighting, downlighting, recessed lighting, accent lighting, floodlighting, and more. The right kind of lights can create safe, attractive, and stunning outdoor areas on your property. These installations will also improve the safety and security of your property significantly.
Irrigation Systems
Every landscape, big and small, will need an irrigation system. But it is crucial to get customized solutions for these installations. We handle all types of residential irrigation projects and install automatic sprinkler systems, automatic rain sensors, gears for attaching to and for expanding valves, and more. We make sure that the irrigation layout and plan is done correctly and that your landscape and all the plantings get watered at the right times in the right quantity. We use the best products and materials in our work so that your landscaping has a resilient and durable irrigation system that will last for many years without any trouble.
Stamped Concrete
Consider getting stamped concrete work done if you want to uplift the appearance of the outdoor spaces of your property. It is a superb way to create a stunning look on patios, decks, driveways, pathways, walkways, and any other area of your landscape. What you get is natural-looking, easy-to-maintain outdoor surfaces at minimal pricing compared to conventional architectural finishes or materials like brick or natural stone. We use the right concrete materials and the latest stamping techniques perfect for various stable outdoor surfaces. Our experts can manage projects of any shape and size and complete the residential stamped concrete task efficiently and cost-effectively.
When you want uniquely designed and planned landscapes that are resilient, sustainable, and well maintained, you need experts like us to handle the job. We at Michael & Sons have unparalleled expertise in the landscaping space, and we offer the most competitively priced landscaping solutions to our residential clients. Our already vast customer base keeps increasing with each passing year, which indicates how much our clients trust us with all their custom residential landscaping needs. For any more information and details about our expert solutions, please contact our expert team at this number – 440-779-7775, or fill in this Online Form with your project details, and we will call you as soon as possible to discuss your requirements. With us, you are always sure to get high-grade, cost-effective, and professional services.
We Provide Services to the Following Cities, Towns and Surrounding Regions of OH:
Avon Lake, OH
Rocky River, OH
Westlake, OH
Strongsville, OH
Lakewood, OH
North Ridgeville, OH
Vermillion, OH
Sheffield Lake, OH
Olmsted Falls, OH
Broadview Heights, OH
Brecksville, OH