Outdoor Living Spaces in Cleveland, OH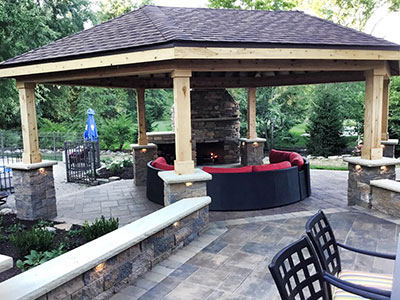 A well-designed outdoor living space in your backyard improves its practicality and increase the value of your property as well. However, it is crucial that the design and installation of these features are carried out with creativity and attention to detail.
It's also necessary to use high grade materials in the feature. This effectively increases the longevity and resilience of your outdoor living installation. Michael & Sons Outdoor Solutions is a leader in the hardscaping industry in Cleveland, OH. From our base, we cater to clients across the region and focus on providing tailored, cost-effective solutions.
We have in-depth knowledge of different types of pavers and can handle your outdoor kitchen installation job expertly. Our team of experts is here to discuss all the details of your project and provide custom outdoor living design solutions that are in line with your budget.
Outdoor Living Plans
To ensure that your entire landscape area is utilized to its optimum level, several things must be taken into consideration. Our team of experts will work closely with you while designing your residential outdoor living space. They will also conduct a detailed survey of the space before starting on the design and planning work.
This helps us get a better understanding of all your specific requirements and how you visualize the yard. Besides, this area is a place for relaxation, which means that each feature must be perfectly synchronized with your requirements.
Our teams of experts always carry out the task in a detail-oriented and systematic manner. Along with your specific requirements, they will ensure that your ideas and inputs are key in view as well. This gives them a better picture of how you envision the result once all the installations are in place.
Different Outdoor Living Features
We take a creative approach to all jobs and ensure that aspects like functionality, maintenance, and durability are not overlooked. We have the expertise, talent in designing, and knowledge to install several features likes:
Decks & Patios
Pergolas
Fireplace Zones
Other Outdoor Areas
All materials used are of the highest quality, ensuring that you don't have to spend on costly repairs. Our team consists of skilled paver installers, outdoor lighting experts, retaining wall experts, and stone masons. They are highly professional and experienced in their respective fields, and you can rest assured that your outdoor area project is in capable hands.
High-Grade Outdoor living Installations
Our onsite supervisor sees to it that each aspect of your landscape project moves forwards smoothly and effectively, without making any compromises on quality. The installers work on schedule and never take any shortcuts. We handle outdoor upgrades with the same attention to detail that goes into new installation projects. It is this approach and focus on personalization that set us apart from many other local landscape design companies. For any more information about our expert outdoor living and other services, feel free to contact us Michael & Sons Outdoor Solutions at 440-779-7775. We always assure you of the best services and reliable and efficient solutions at very reasonable outdoor living cost.
We Provide Services to the Following Cities, Towns and Surrounding Regions of OH:
Avon Lake, OH
Rocky River, OH
Westlake, OH
Strongsville, OH
Lakewood, OH
North Ridgeville, OH
Vermillion, OH
Sheffield Lake, OH
Olmsted Falls, OH
Broadview Heights, OH
Brecksville, OH