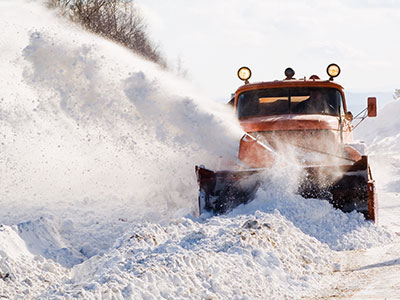 When there are snowstorms, moving around in outdoor spaces can become almost impossible. Cold and snowy weather conditions impact most people, but commercial establishments are affected far more.
When you are snowed-in, it means you stand to lose out on business as the outdoor areas of your commercial property would be entirely covered with snow. If your employees, customers, and clients are unable to park on your premises and access the building safely, it will result in business losses. The best way to avoid this is to hire the services of expert and professional snow & ice removal professionals like us.
Local Snow and Ice Management Services
At Michael & Sons, we offer comprehensive landscaping solutions. But we are also the snow clearing experts that local businesses rely on for prompt and efficient solutions during the winter months.
We are committed to ensuring that our customers get the kind of snow plowing services they need. And this means designing custom snow and ice removal plans. We serve commercial clients in and around Avon, OH, and offer tailored solutions that ensure you get timely services and value for money.
Our experienced snow management team can handle these jobs safely and skillfully and will clear all the snow from the parking lots, driveways, and sidewalk, pathways, and other areas within the shortest time. We offer comprehensive snow removal & ice management solutions.
Variety of Snow & Ice Removal Services
We know that snow piling up on your premises can affect your business. It is why our team works efficiently and quickly. We provide an immediate response, and our snow removal professionals will clear your outdoor spaces of all the snow build-up as promptly as possible.
You may need our snow removal services multiple times during the winter season, and we are here to cater to these needs. We keep track of the weather reports during wintertime, and our team is ready to handle snow removal when you need it. The range of solutions we offer include:
Commercial snow removal services
Installing ice melt products
Clearing snow from commercial sidewalks
Sanding of driveways and roads
Working with salt ice-melt and calcium
Clearing snow & ice from parking lots
Clearing ice and snow from the pathways & walkways
Regardless of when you require our services, our team will be at your location. They will ensure that the snow and ice are removed from your property.
Commercial Driveway Snow Shoveling
We provide quick and affordable commercial driveway snow removal services. Our personnel will ensure that all the snow is removed from the outdoor surfaces before it poses an inconvenience and hindrance to you, customers, clients, and employees.
We will also salt the outdoor spaces to remove the ice and ensure that the outdoor areas are safe for use. Not only do we use modern and advanced snow shoveling and moving equipment, and vehicles, but have adequate rock salt and other de-icing product supplies.
With us just a phone call away, you do not have to be concerned about being snowed-in during the winter months.
When you want reliable and affordable snow and ice removal services, we at Michael & Sons are the company to call. For any more information about our expert solutions, please contact us at this number- 440-779-7775, or fill in this Online Form with your requirements and we will call you as soon as possible.
We Provide Services to the Following Cities, Towns and Surrounding Regions of OH:
Avon Lake, OH
Rocky River, OH
Westlake, OH
Strongsville, OH
Lakewood, OH
North Ridgeville, OH
Vermillion, OH
Sheffield Lake, OH
Olmsted Falls, OH
Broadview Heights, OH
Brecksville, OH