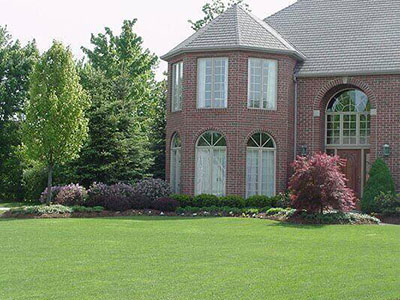 The outdoor areas on commercial properties are not the same as residential ones. While aesthetics, curb appeal, and practicality are crucial in both settings, a commercial property owner needs the outdoor areas to reflect their business' professionalism.
The appearance of the outdoor and indoor areas of commercial property has a significant impact on the overall perception that customers, clients, and employees have about the business. So, when you are considering getting your commercial landscape installed, you need the skills and expertise of local commercial landscapers like us.
High-Grade Commercial Landscaping
At Michael & Sons, we offer comprehensive commercial landscaping solutions, including design layouts and plans for improving the usability, sustainability, and curb appeal of your outdoor spaces. We are committed to ensuring that our clients get the kind of landscapes that will reflect their seriousness about running their business.
And this means designing and planning commercial outdoor spaces, so they remain appealing, practical, and in good condition. We handle all types of the new business landscape and upgrade projects in Avon, OH and offer customized services, so you get excellent value for money.
Commercial Landscaping – The Aspects We Handle
Designing and planning commercial landscapes is a specialized job, and you need experienced professionals to handle it. If you hire residential landscapers, they might not be able to cater to your specific needs. We customize our solutions and discuss your requirements in detail before coming up with designs and plans for commercial landscapes.
Our company passionately believes that creativity & insight are the cornerstones of the landscape planning process. While we are always here to help you with the latest landscape design trends, the solutions we offer will be based on your ideas, needs, and budget.
Our landscape designers incorporate various elements and features in the right measure to create well-balanced, stunning outdoor spaces on your commercial property. We follow a systematic work process and handle the design and planning of features such as:
Softscaping
This includes a selection of grasses for lawn, the shrubs, trees, and plants as well as flower beds planting and more. We also make sure that the plant and shrub selections and locations improve the water-efficiency of your landscape.
Hardscaping
Hardscapes include all the masonry elements and covers things like concrete flatwork, retaining wall design and build, paver driveway, walkway and pathway installations, water features, garden steps, boundary walls, curbing, edging, and more.
Excavation, Grading, Irrigation, and Drainage
In addition to the visible feature's in a landscape, there are also some aspects and elements that are part and parcel of all commercial landscaping jobs. We handle all the site prep and will excavate and grade the land as required. We also handle the irrigation designs, and plans create detailed landscape drainage system layouts too. When you want superbly designed, installed, and maintained landscapes, we at Michael & Sons are the company to call. For any more information about our expert solutions and commercial landscaping costs, please contact us at this number- 440-779-7775, or fill in this Online Form with the details of your project. We will call you as soon as possible.
We Provide Services to the Following Cities, Towns and Surrounding Regions of OH:
Avon Lake, OH
Rocky River, OH
Westlake, OH
Strongsville, OH
Lakewood, OH
North Ridgeville, OH
Vermillion, OH
Sheffield Lake, OH
Olmsted Falls, OH
Broadview Heights, OH
Brecksville, OH