Residential Maintenance Program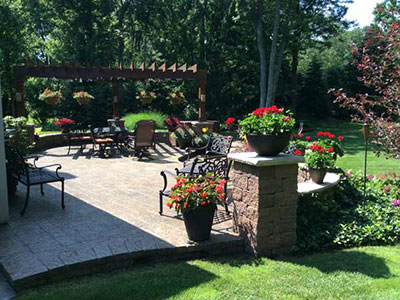 Residential landscapes are different from commercial spaces and are designed and planned for optimal usability and practicality. Homeowners take significant interest in planning various elements and features in the outdoor areas and invest in suitable quality materials and workmanship.
Even when high-grade materials and products are used in the installations, regular use, and constant exposure to the natural elements take their toll. This aspect makes it crucial to maintain hardscaping and softscaping features regularly. While some residential property owners handle some aspects of yard maintenance, such as mowing, others may hire local handymen and gardeners for the job.
While these professionals can handle basic landscape maintenance, they do not have the specialized training and in-depth knowledge licensed operators as we do. We have extensive experience in this industry, and our team can manage all aspects of yard maintenance very well.
Local Experienced Landscapers
We are reputable residential landscape maintenance operators that offer customized and affordable services. At Michael & Sons, we offer end-to-end landscaping solutions, including yard maintenance that helps improve the beauty and sustainability of your landscapes. We are committed to ensuring that you get the kind of landscapes you will love to use.
This means designing, planning, and maintaining outdoor spaces, so they remain in good condition and look good. We handle residential landscape care projects in Avon, OH, and offer customized services, and you always get a good return on investment.
Custom Residential Maintenance Plans
We handle a significant number of ongoing landscape maintenance projects for residential clients around the region. Our experts have created functional and appealing outdoor spaces on the properties here.
We always work closely with you to understand your specific ideas, needs, and budget. Our experts have in-depth knowledge of all aspects of maintaining landscapes. No matter how big or small your requirement, we can help. Our landscaping company offers a wide variety of services, including:
Softscape Maintenance
Mowing & weeding
Seeding & aerating
Shrubs & plant pruning
Grass & hedge cutting
Leaf removal and power raking
Hand pruning
Fertilization
Border maintenance
Pest control
Aeration & Mulching
Lawn maintenance
Lighting management
Tree trimming and pruning
Installation of new planting
Irrigation system repairs
Drainage system cleanup and repairs
Seasonal cleanups
Hardscape Maintenance
Patio and deck pressure wash
Fire feature maintenance
Water feature maintenance
Paver cleaning and sealing
Retaining wall cleaning
Others
Cost-Effective Landscape Maintenance Plans
As you can see, we provide complete residential landscape maintenance. Regardless of whether you need landscape care for a vast or compact landscape, we can provide customized solutions. We use organic fertilizers and various effective pest control products that help maintain the appearance and health of your trees, plants, shrubs, and lawns. When you want stunning, well-planned, and well-maintained landscapes, we at Michael & Sons are the company to call. For any more information about our services and landscape maintenance costs, please contact us at this number 440-779-7775 or fill in this Online Form with the details of your project, and we will call you as soon as possible.
We Provide Services to the Following Cities, Towns and Surrounding Regions of OH:
Avon Lake, OH
Rocky River, OH
Westlake, OH
Strongsville, OH
Lakewood, OH
North Ridgeville, OH
Vermillion, OH
Sheffield Lake, OH
Olmsted Falls, OH
Broadview Heights, OH
Brecksville, OH