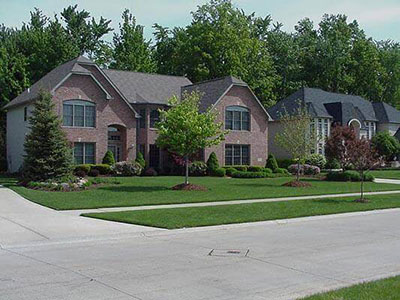 At Michael & Sons, we offer start-to-end, commercial landscaping solutions such as design and planning, landscape maintenance plans, and snow and ice removal services. Our services are centered on your needs, so you will always get value for money when you hire us.
We are committed to ensuring that our customers get the kind of landscapes that will be a value-addition to their premises and business. It means we design, plan, and maintain outdoor spaces, so they remain in good condition and are sustainable and look appealing. We handle commercial landscaping projects in Avon, OH, and have a vast customer base in the region. Regardless of the size and scope of your landscaping job, we can help. The range of services we offer include:
Commercial Landscaping
We design and plan commercial landscapes. This is a specialized job, and when you hire skilled and experienced landscapers, you can be sure that we can cater to your specific needs. We offer customized solutions and take the time to discuss your requirements before coming up with tailored commercial landscaping plans and layouts. We believe that the landscape designing process needs to be handled creatively and innovatively. We use high-quality masonry and softscaping products, so you have resilient and appealing outdoor spaces that enhance your commercial premise's beauty and value. Our team makes sure that your landscapes are sustainable, easy to maintain, water, and energy efficient.
Maintenance Program
Our company offers all-around landscaping solutions, including customized maintenance plans that help improve your outdoor spaces. We focus on designing programs that will consider the specific needs of our clients' landscapes, and we handle all aspects of lawn and flower bed maintenance expertly. You will find that our services come at competitive landscape maintenance costs. You get the best solutions without burning a hole in your pocket on these recurring expenses for your property. We handle this job expertly, use organic fertilizers, pest control products, and the latest equipment and techniques in our work, which creates superb, outdoor spaces that become the perfect backdrop for your commercial structure.
Snow & Ice Removal
When there are snowstorms, you lose out on business if the outdoor areas of your property are entirely snow-covered. If your clients, customers, and employees are not able to use the parking lot, the driveway, or any of the walkways and pathways leading to your building, they will take their business elsewhere, which will result in losses for you. But when you opt for our customized snow and ice removal plans, you get reliable and affordable services through the winter months. Our experts will make sure that your outdoor spaces are clear of snow so that the snow does not impact you. We offer timely services, and our snow and ice removal experts tackle every job safely, efficiently, and reliably.
When you want superbly designed, installed, and maintained landscapes, we at Michael & Sons are the company to call. Our expertise in the landscaping space is unparalleled, and we offer the best and most competitively priced services to our commercial clients. Our customer base keeps increasing with every passing year, and this indicates how much commercial property owners trust us with all their landscaping needs. We never compromise on quality and always focus on providing outstanding customer services to all our clients. For any more information and details about our expert solutions, please contact us at this number or fill in this Online Form with your project details, and we will call you as soon as possible to discuss your requirements. With us, you are always sure to get high-grade, cost-effective, and professional services.
We Provide Services to the Following Cities, Towns and Surrounding Regions of OH:
Avon Lake, OH
Rocky River, OH
Westlake, OH
Strongsville, OH
Lakewood, OH
North Ridgeville, OH
Vermillion, OH
Sheffield Lake, OH
Olmsted Falls, OH
Broadview Heights, OH
Brecksville, OH